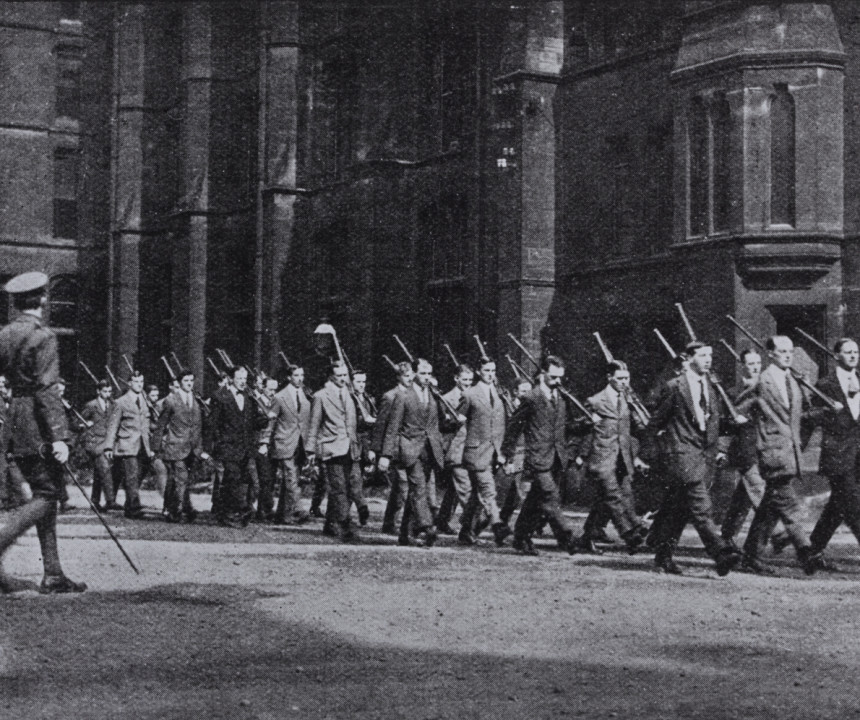 At the outbreak of war, the University committed to proactively contributing to the war effort. The Officer Training Corps was allowed time for military training and recruitment which intensified the University's loss of students and staff to military service.
From 1914 to the end of the 1915-1916 session, about 390 students from the Victoria University withdrew from courses to join the armed forces. Fifty-two members of staff volunteered to fight and the University agreed to keep their positions open.
Manchester was a medical hub and many female students became involved in the Voluntary Aid Detatchment of the Red Cross, particularly in transporting and caring for injured men from the front who were brought into London Road (now Piccadilly) Railway station and on to the hospitals. Other students volunteered for agricultural work to replace the men that had volunteered to fight. 
The proportion of female to male students increased during the war. In the last year of peace, women made up 21 per cent of the Victoria University student body, but this rose to 43 per cent during the war. Pre-war, many women took courses that were seen as suitable for middle-class women, especially in the Arts Faculty, but during the War the proportion of female students in vocational subjects such as medicine, science and engineering increased rapidly.
Whilst actively contributing to the war effort, the University's leaders felt it was important that both institutions carry on with the important work of research and education as normally as possible. With the exception of Law, all faculties continued to provide normal teaching. Whilst there was far less danger to civilians during the First World War, when compared to the Second World War, the University saw that it had a civic duty to provide a normal range of part-time classes, public talks and events at the Manchester Museum as a distraction from the War and to provide a sense of normality and reassurance. 
Around 600 students and staff from the Victoria University of Manchester and the Manchester Municipal School of Technology lost their lives in military service during the War.