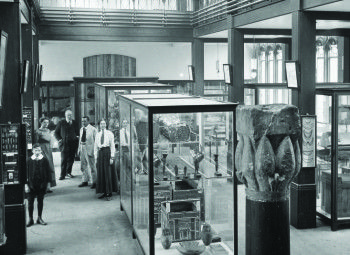 The Manchester Museum became involved in the First World War through its staff and its activities.
As far as possible, the Museum sought to maintain a normal service through the war in an effort to maintain public morale, but it also took its duty to the war effort very seriously. In June 1915 local school buildings were taken over as hospitals which resulted in schools sharing buildings. Two schools were forced to share a building, which meant that each could only teach for half a day. The local Education Department asked the Museum for help. The Keeper of the Museum (now known as the Director) and the Education Authority drew up a scheme under which pupils would receive instruction in Natural History and Egyptology in the Museum's buildings. During the course of the war between 900 and 1000 pupils were educated in the Museum.
Over a third of the Manchester Museum staff of 1914 had enlisted and were serving in the Army by 1915. The following were the first to enlist and all served overseas: Captain T.N.C. Nevill, Manchester Regiment (Finance Officer – Manchester Museum); Lieutenant Thomas Eric Peet B.A, Kings (Liverpool) Regiment, Army Service Corps (Egyptology Dept. – Manchester Museum); Gunner Albert Biddolph , Royal Garrison Artillery (Gallery Attendant – Manchester Museum); Gunner Morris Williams, Royal Garrison Artillery (Gallery Attendant – Manchester Museum); Dr Walter Medley Tattersall, Royal Garrison Artillery, (Director, Manchester Museum 1909-1922).
Walter Medley Tattersall was born in Liverpool, son of a draper in 1882. He studied Zoology at Liverpool University, graduating in 1901. Whilst working as a naturalist for the Department Of Irish Fisheries he began his famous studies of crustaceans. In 1909 he became the director of Manchester Museum and also worked as a tutor. During World War One he served as a Gunner in the Royal Garrison Artillery in France and Flanders where he was wounded and gassed in 1918, injuries from which he never fully recovered. He left Manchester Museum in 1922 for a Professorial post at Cardiff University. He died in 1943.
Another of Manchester Museum's noted wartime figures was the Egyptologist Thomas Peet. Born in Liverpool in 1882, he was educated at Merchant Taylors' School, Liverpool and later at Queen's College, Oxford. At university he became fascinated by the Italian prehistoric period and after his studies spent three years exploring early Italian and Maltese sites. He went on to write The Stone and Bronze Ages in Italy and Sicily (1909), which became the standard work on the subject.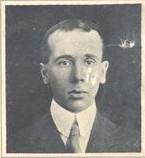 As Italian archaeology seemed to offer no permanent livelihood, he turned to Egyptology. In 1913 Peet became lecturer in Egyptology at the University of Manchester. In 1915, he was given a commission in the Royal Army Service Corps. In 1917, he became head of a military team established to look after and catalogue archaeological discoveries being accidentally uncovered during the construction of defensive works in Salonica – a First World War 'Monuments' Man'.
After the war he worked at the Universities of Manchester, Liverpool and Oxford. He died in February 1934 aged 52. Oxford University's Egyptology library, is named the Peet Library in his honour.
Contributed by Mike Whitworth, Manchester Museum