Captain, 15th Battalion Royal Welsh Fusiliers.
Killed in action 7th May 1917 age 21.
Buried in Essex Farm Cemetery, Belgium.
Student of chemistry.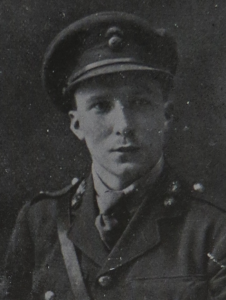 ---
William, born in September 1896, was the younest son of James, a schoolmaster, and Minnie Elizabeth Wood of Leyland, Preston. Having attended Balshaw's Grammar School he came to Manchester University in 1915. A keen sportsman he played cricket, football, tennis and fives at the University.
William joined the University Officer Training Corps in October 1915 and was gazetted to the 11th Battalion Gloucester Regiment on 16th January 1916. Having served in Dublin during the Sinn Fein Rebelion he sailed for France in June 1916. He was killed by a sniper on 7th April 1917 near Boezinge while serving as a Captain with the Royal Welsh Fusiliers. Both of William's brothers also served in the army. Effects worth £197 16s 9d were left to his father.