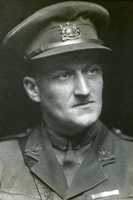 Lieutenant Colonel, 16th Battalion The Manchester Regiment, V.C, D.S.O., M.C. 
Killed in action 21st March 1918, age 29.
Commemorated on the Pozieres Memorial, France.
Former Bachelor of Arts.
---
Wilfrith was born on 8th September 1888 at Chichester, Sussex to John George Elstob, a vicar of the cathedral, and his wife Francis Alice. Just a few weeks later the family moved to Cheshire. Wilfrith attended Ryleys Preparatory School in Alderley Edge and Christ's Hospital School in London where he was a house monitor and played in the Rugby 1st XV. He arrived at Manchester University in 1905, obtained his BA in 1909 and a teaching diploma in 1910. During his time at the University he whiled away many happy hours studying the collections at Manchester Musuem. He taught for a year at the Lycee in Beauvais before continuing his studies at the Sorbonne in Paris. In 1912 he went to the Preparatory School of Merchiston Castle School in Edinburgh as a senior French master.
On 11th September 1914 Wilfrith enlisted with the Public Schools Battalion, but before he could begin his training he was offered a commission with "A" company 16th Battalion The Manchester Regiment, a unit largely made up of clerks and warehousemen from large Manchester firms. His good friend Hubert Worthington, who he had first met at school and who was also a graduate of Manchester University, convinced Wilfrith to take the commission. The battalion trained at Heaton Park and on 31st March 1915 paraded in Albert Square for Lord Kitchener. In May 1915 Wilfrith was promoted to acting Captain. Further training was undertaken at Grantham and Salisbury Plain before the battalion embarked for France on 6th November 1915.
Wilfrith was put in command of 'D' Company and took part in the 1st July 1916 attack on the Somme near Mountauban. Wounded by machine gun fire to the neck a Sergeant bandaged him up so he could continue his duties. His leadership that day earned him a Military Cross. Hubert, was badly wounded and after being evacuated did not return to the Western Front. Eight days later Wilfrith was wounded again in action at Trones Wood. Heavy losses in officers and men saw Wilfrith promoted to second in command of the battalion and three months later, when the commanding officer was killed in action, Wilfrith was placed in charge of the battalion and promoted to acting Lieutenant Colonel.
During 1917 the battalion took part in the Battle of Arras and the Third Battle of Ypres. In a letter to Hubert, on 15th April Wilfreth wrote: "It is impossible to realise what "Destruction" means until one has seen the country laid waste by the Boche in his retreat. Every village is blown to bits; every cross-roads blown up; every bridge ditto – there is absolutely nothing except wreckage and destruction". Despite his strong character the strain of war and losses of men did tire him and in July 1917 he wrote about how he felt "terribly lonely and that my work is not as good as it was… Sometimes my heart aches for a Friend to go and unburden myself to". In May 1917 he wrote to another officer after the recent actions: "We were able to burry all the officers in a neat little cemetery and yesterday afternoon we held a memorial service for the gallant dead in the warm spring sunshine under some budding lime trees in a quiet French village away from the firing line. It was not a cheerful ceremony but one was proud to be able to hold sacred communion with our Friends and Comrades. The end is not yet".
From August to December 1917 Wilfrith was in temporary command of the 90th Brigade, the higher level unit 16th Battalion was a part of. In January 1918 Wilfrith was awarded the Distinguished Service Order for his bravery and leadership during 1917.
On 18th March 1918 the battalion took over a section of the front line near St Quentin in France known as Manchester Hill after the 2nd battalion capture of it in 1917. The British Army was by now expecting a large German attack. Wilfrith organised his men accordingly and warned them that they may have to endure a heavy artillery bombardment, that the action may last several days and that the unit was expected to defend their position to the last man. At 06:30 on 21st March high explosive, shrapnel and gas shells began to rain down on the British lines. Wilfrith moved his headquarters closer and visited a number of posts to check on the men and give them encouragement. The German infantry began their attack at 08:30 and quickly took two company headquarters and front line positions. By 11:30 the enemy breakthrough was complete on either side of Manchester Hill.
Wilfrith defended his position side by side with his men, throwing bombs, using his revolver and when he ran out of ammunition he took up a rifle and continued the fight. He was wounded twice, but as in previous actions he had his wounds dressed and stayed at his post. He continually encouraged his men and praised them for doing a magnificent job. When bombs ran low he fetched new supplies and at one point he republished an enemy assault single-handed. At about 14:00, surrounded by the enemy, Wilfrith used a buried cable to assure the Brigade Commander that "The Manchester Regiment will defend Manchester Hill to the last." Shortly afterwards the remnants of the battalion were overcome by the enemy and Wilfrith was killed doing his duty in the manner he had impressed upon his men that "Here we fight, and here we die."
On 15th April 1918 a memorial service for Wilfreth was held at Manchester Cathedral. Hubert travelled, more than once, to the area where Wilfrith had fallen in the hope of finding his body, but was unsuccessful. On the 9th June 1919 Wilfrith was posthumously awarded the Victoria Cross for his fatal action and his citation noted that he had "set throughout the highest example of valour, determination, endurance and fine soldierly bearing." His father, accompanied by Hubert, received the medal from the King at Buckingham palace. On the 1st anniversary of his death an officer who served with Wilfrith recalled that "he was always known to be fearless, enthusiastic, determined, and above all, just. He was loved alike by officers and men. When he fell among those to whom he was so devoted the Manchester Regiment lost one of it's greatest leaders. His cheeriness and optimism were perhaps two of the greatest traits in his character."
 Wilfrith left £1833 15s 9d to one of his three brothers, Noel Chamberlain Elstob, and a solicitor called Ernest William Hendy.