Lance Corporal 10059, 20th Battalion Royal Fusiliers.
Died 16th April 1917, age 24.
Remembered on the Arras Memorial, France.
Former student of mathematics.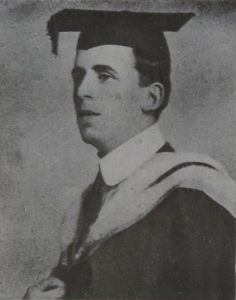 ---
Wenden was born at Oldham in 1893 to William, a policeman and fireman, and Susannah Eliza Wilde. Educated at Waterloo Council School and Oldham Hulme Grammar School he came to Manchester University in 1911 and graduated with First Class Honours in 1914. With a graduate scholarship he then gained a teachers diploma and London Intermediate B.A. after which he went to Carmarthen Grammar School as a mathematics master.
Having been a part of the University Officer Training Corps from Oct 1911 to September 1915 Wenden enlisted on 10th January 1916 and went to France in July that year. On 4th November he was wounded while on sentry duty resulting in a month in hospital at Rouen. He was recommended for a commission in the field and was due to return to England for training, but he was killed just a few days before early on the morning of 16th April 1917.