2nd Lieutenant, 11th Battalion The King's Liverpool Regiment.
Killed in action 18th July 1917, age 26.
Buried in Klein-Vierstraat British Cemetery, Belgium.
Student of mechanical engineering.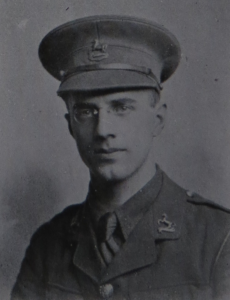 ---
Tom was born in 1891 at Bury to Arthur, a draper, and Sarah H. Hardman. He was educated at Bury Grammar School where he excelled in latin, played cricket, was a member of the school Cadet Corps, and took part in school plays. Following school he began work as an apprentice draughtsman at the drawing office of Messrs. Bentley and Jackson, a paper maker and bleacher in Bury. Tom won a scholarship to Manchester University and started his course in 1913.
In October 1914 Tom joined the University Officer Training Corps and was gazetted in Septemeber 1915. His unit proceeded to the Western Front in March 1916 and he was mentioned in despatches for 'distinguished and gallant service and devotion to duty' in January 1917. On the night of 17th July 1917 Tom's unit, a pioneer battalion, was working on improving trenches near the village of Wytschaete when he was killed by artillery fire. Both his Lieutenant Colonel and Company Commander wrote to Tom's parents describing him as cheery, keen, hard working, capable and very popular.