2nd Lieutenant, 18th Battalion Manchester Regiment.
Killed in action 23rd April 1917.
Remembered on the Arras Memorial, France.
Former student of chemistry.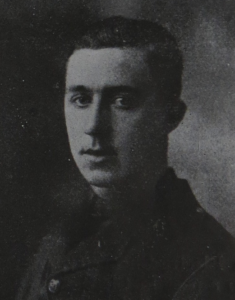 ---
Sydney was born on 10th June 1892 at Kirby-in-Furness, Lancashire, the second son of Walter Adshead, a schoolmaster at Brookfields near Glossop. After attending Glossop Grammar School he entered Manchester University in 1909 gaining a BSc in 1912 and an Msc in 1913. He went on to become a research chemist at Burroughs and Wellcome, London.
Sydney was a member of the University Officer Training Corps from February 1910 to September 1912 and for a time part of the Shooting Eight. on 5th October 1914 he re-joined the forces, enlisting in the Royal Marines Light Infantry. While serving in Gallipoli he contracted enteric fever which resulted in a stay in hospital in Egypt. After he had recovered he did four months patrol work on H.M.S. "Prince George" and obtained a commission in the Manchester Regiment in December 1916. Sent to France in January 1917 he was at first reported missing in April, near Arras, but shortly after was confirmed as killed on 23rd. Sydney's commanding officer in a letter to his parents reported that:  "He was killed shortly after leaving our trenches, shot through the head, and his death must have been absolutely painless. I cannot tell you how deeply I feel his loss; his quiet yet cheerful manners endeared him to all ranks, and he has left a gap in our ranks which will be very hard indeed to fill up. I could not have asked for a better officer, efficient in every way, and most considerate to those under him; brave and cool in action, a fine example of the British officer: his death is a great loss to me and to the Battalion. We are proud of your son, and his memory will be ever dear to us." Although it seems that Sydney's body was found and buried his grave must have been lost in subsequent fighting as he is remembered on the Arras Memorial.