Captain, 7th Battalion Manchester Regiment.
Killed 24th May 1917, age 21.
Buried in Neuville-Bourjonval British Cemetery, France.
Student of history.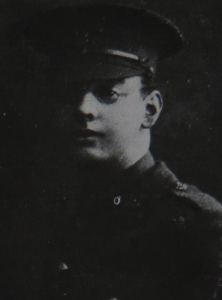 ---
Robert was the son of James,a chemist, and Mary E. Grant of Prestwich. He was born in 1896 and attended Manchester Grammar School where he was a prominent gymnast and a member of the school Officer Training Corps (O.T.C.). He started his studies at Manchester University in September 1913 and joined the University O.T.C. with whom he was on camp at Sailsbury Plain when war broke out. He immediately volunteered and in Septemer 1914 was commissioned in the Manchester Regiment. He spent 17 months training in England and in December 1915 was promoted to Lieutenant and sent to Suez, Egypt on guard duty. During the Battle of Romani he was attached to the Lancashire Fusiliers and slightly wounded by shrapnel. In February 1917 his unit transferred to France where he was killed by a sniper near Villers Plouich on 24th May 1917. His promotion to Captain was gazetted shortly after his death.
The words "We have gained a peace unshaken by pain for ever. War knows no power." taken from a Rupert Brooke poem called Safety are engraved on Robert's headstone. His father inherited effects worth £292 17s 5d.