2nd Lieutenant, 1st Garrison Battalion Worcestershire Regiment, attached 11th Battalion Somerset Light Infantry.
Died of wounds 11th September 1918, age 24.
Buried in Aire Communal Cemetery, France.
Former student of classics.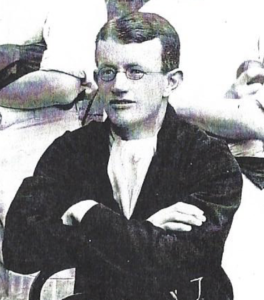 ---
Robert was born in Beverley, Yorkshire in 1893, one of six children of Reverand Philip Henry and Rosa Taylor. From 1904, alongside his two brothers, he attended Kingswood School, Bath which had been founded by John Wesley in 1748 to provide an education for the sons of Methodist clergymen. He proved to be a talented sportsman, playing for the school rugby and cricket teams, and also an able scholar and school prefect. Robert was awarded the Fernley Exhibition when he left school in 1913 to read Classics at Manchester University.
The day after he graduated in 1916 Robert joined the Army, but because of his poor eyesight he was passed medically fit for 'home duties' only. As a result, he was gazetted to the Worcester Regiment where he served as anti-gas officer to his battalion in England. However, poor eyesight notwithstanding, Robert was later attached to the Somerset Light Infantry as a 2nd Lieutenant and sent to France in May 1918. On 2nd September 1918, during an attack near Arras, he was severely wounded in the thigh by an exploding shell. It wasnt until the following morning that Robert was found and taken to hospital for surgery. At first it seemed the operation had been successful but a blood clot detached from the wound and travelled to his lung which proved fatal. Robert died on 11th September 1918, nine days before his 25th birthday and just two months before Armistice Day.
The 1922 Roll of Service is split into two sections: those who are known to have died and those who are known to have served and were presumed to have survived. Robert is incorrectly listed in the latter section. He is not listed on the main University memorial.