2nd Lieutenant, 62nd Sqaudron, Royal Flying Corps.
Died in a flying accident 18th May 1917, age 22.
Buried in Bristol (Canford) Cemetery, UK.
Former student of education.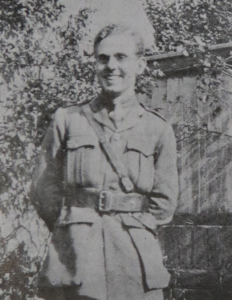 ---
John, the sone of James William and Nellie Mary Waller of Chorlton-onMedlock, attended Manchester Municipal Secondary School before joining Manchester University as a student in the education department.
John joined the Royal Fusiliers as a private in October 1914 and went to France 12 months later. In May 1916 he returned to the UK to train for a commission and was gazetted to the Royal Flying Corps in September 1916. On 18th May 1917, during his qualifying flight, John's plane stalled and side slipped with the engine full on and he died in the resulting accident. His name appears to have been missed off the University Memorial and added at a later date as it listed in a different location to the other R.F.C. losses and does not appear in the 1922 Roll of Service.