Private 99659, Machine Gun Corps.
Died of illness 7th June 1917, age 19.
Buried in Manchester Southern Cemetery.
Student of medicine.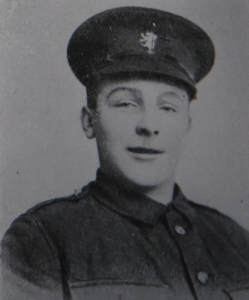 ---
John was born in 1898 at Urmston to John Edward and Mary Holt of Lytham. He was educated at Manchester Grammar School (1908-1915) and then joined Manchester University to study medicine. He passed the first year of his course.
John joined the University Officer Training Corps in April 1916, became a section leader, and in September 1916 was promoted to Lance-Corporal. In late March 1917 he was accepted for a commission with the Machine Gun Corps and sent to Harrowby Camp near Grantham for training. While there he contracted German measles and was sent to hospital to recover. He died of a brain haemorrhage twelve days after being discharged from hospital. Originally buried at Cheetham Hill Methodist Cemetery on 11th June 1917, with a detachment of the O.T.C. in attendance at his funeral, his body was moved to Manchester Southern Cemetery in 2003. His school remembered him as showing "promise not only of intellectual achievements, but of real manly strength of character and capacity to lead".
For many years John's family posted a memorial notice in The Manchester Guardian on the anniversary of his death. When John's father died in February 1935 he left £1000 to Manchester Royal Infirmary, Dispensary and Lunatic Hospital of the endowment of a bed in one of the male medical or surgical wards to be called the "John Heber Goulburn Holt Bed" and directed that a tablet should be placed over such a bed stating that it was in memory of his son who had been a medical student at the University and had died during army service in 1917. He also left a scholarship of £50 per annum to the University in memory of his son for male medical students who were in need of financial assistance on condition they had passed their first year of the degree of Bachelor of Medicine.