2nd Lieutenant, Royal Air Force.
Killed in a flying accident 19th June 1918, aged 21.
Buried at Habergham (All Saints) Churchyard, Lancashire, UK.
Former member of the University Officer Training Corps.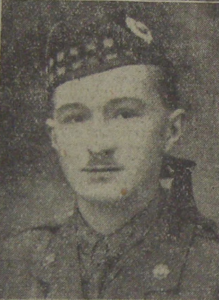 ---
Jack was the only son of Alexander Stell. He was born at Burnley in 1897 and attended the local grammar school. He was a cashier in a cotton weaving shed at Messers. Lee's Mill, Elm Street, Burnley. He was an active member of a church choir and sunday school.
From Feburary to July 1916 Jack was training with the University Officer Training Corps and then went to the Cadet Corps of Keble College, Oxford. He went to France with the 3rd Battalion Royal Scots in January 1917, fought on the Somme and at Arras before being taken ill with trench fever. On returning to fitness he joined 120th Squadron Royal Air Force and qualified as a pilot. He was killed when the aeroplane, a RE8, he was flying stalled in a turn and nose dived near Cramlington, Northumberland, at approx 4:40pm on 19th June 1918. He left effects worth £145 7s 9d to his father who the headmaster of Stoneyhulme Council School, Burnley.