Captain, M.C., 1st/5th Battalion The Loyal North Staffordshire Regiment.
Died 31st July 1917, age 22.
Buried in Vlamertinghe New Military Cemetery, Belgium.
Student of medicine.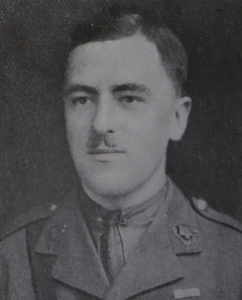 ---
Hubert Chronnell, born in 1895, was a native of Hindley in Lancashire and the only son of a local doctor. He studied at Stoneyhurst College (1907-1913) where he was known as "Dick" to  and was described as "unassuming, quiet and rather reserved" with a "strong will and determination in matters of importance" and he gained the admiration and esteem of everyone.. He considered careers in the Army, or Indian Civil Service, or fruit-farming in Australia. His father was keen that he pursue medicine and so he joined Manchester University in 1913.
Hubert had previously attained the rank of Sergeant in his school Officer Training Corps and in October 1914 Hubert was gazetted to The Loyal North Staffordshire Regiment. He was promoted several times and became a Captain in October 1916. He went to the front in February 1915, took part in the battles around Ypres that year and in the August and November 1916 battles on the Somme. In November 1915 he was mentioned in despatches and awarded the Military Cross in January 1916. A rigid commander of his men who always demanded exact obedience from his them he was also very caring of them, and gave the parcels he received from his parents them.
He died on the first day of the Battle of Passchendaele. The flag at his local church was flown at half mast when news of his passing was received. His headstone bears the motto of his school 'Quant Je Puis' (As Much as I Can).