Private, 33006 8th Battalion Cheshire Regiment.
Killed in action 11th April 1917, age 21.
Remembered on the Basra Memorial, Iraq.
Former student of textile industries and chinese (the latter possibly part of the former).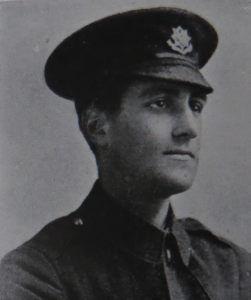 ---
Haron was born on 14th March 1896 at Didsbury, the second of Zarch Spiiyian I. Baronian and his wife Shushan of Knutsford, Cheshire. Baronian's father was a cotton merchant mostly dealing in exports to China, of Turkish birth, both naturalised British subject since 1893. He was educated at Wadham House School, Hale and Bowdon College, where he was a prefect and captain of games. He entered Manchester University in 1914. He passed the 1st year 1914-15 (conditional).
Along with his brother Stephen, Haron was a member of the University Officer Training Corps until October 1915. Unable to obtain a commission, possibly due to his parent's turkish heritage, he enlisted as a private in December 1915 with the Cheshire Regiment. After training at Birkenhead they embarked for Mesopotamia in June 1916. On 1st February 1917 he was wounded in the hand during an attack. In a letter to his parents he describes the incident: "We had got to within 30 yards of the enemy's frontline trench when I suddenly felt an awful pain like a stab through my left hand. I suppose I fell down. At any rate a freidn called Alec Saunder's stopped a little with me and bandaged me up roughly, stopping the bleeding." He later made his way back through the dressing stations to hospital.
On 10th April 1917 the battalion Haron was serving with got news that a large Turkish force was attempting to outflank them and made an exhausting 10 hour march towards this strong column stopping at dawn the next day. A close friend, Serjeant Arthur King, wrote "This was the last time I saw Haron alive. We had breakfast together and laughed and joked over the incidents of the march. When the fall in was ordered, we had to separate." Haron's unit went ahead of Arthur's, into heavy shell and rifle fire, to take a low ridge. 100 yards from the summit Haron's unit was were sent back for more ammunition while Arthur's laid down, unable to dig in due to the hard sun baked nature of the terrain and pestered by locusts. Arthur enquired after his friend with wounded men passing by, and was shocked to hear from one of them that Haron had been killed and was just yards from his own position. Arthur recalled that "his eyes were closed, and there was no sign of his being hit. Only a tell-tale little bullet hole in his tunic showed where he had been shot on the stomach". Haron laid down his life somewhere between Deltawa and Deli Abbas.
Haron was remebered by Professor Parker, a tutor of chinese was impressed by Haron and his "delicacy in points of behaviour and his loyal attitude towards his elder brother" and said that he had been disappointed at not being able to get a commission and that it was the death of a class mate that spurred him to join the ranks. Before leaving for Mesopotamia Haron dined with the Professor and was "cheeryful under conditions of life so different from his comfortable Knutsford home, he was eagerly looking forward to 'the front' somewhere. That was the last I saw of him, though he wrote several times to me from Mesopotamia, always full of service and duty".
After his death Haron's family had a bronze statue of him made by Sir William Hamo Thornycroft. For some time it stood in their garden at Brae Cottage in Knutsford, and was moved in the late 1970s to the Memorial Cottage Hospital in the town (now a Red Cross Headquarters). It is only one of 6 statues in the UK based on a likeness of a known serviceman.