2nd Lieutenant (Acting Captain), 21st Battalion Manchester Regiment.
Died 24th May 1917, age 27.
Buried in Achiet-le-Grand Communal Cemetery, France.
Former student of english.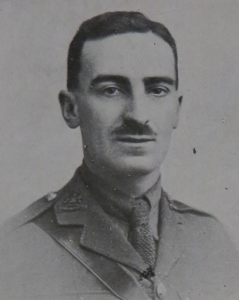 ---
Harold was born in 1889 at Chorlton on Medlock, the only son of Charles and Emma Grimshaw. He was educated at Ardwick Higher Grade School, Manchester Central School and Manchester P.T. Training College. He entered Manchester University in 1909 gaining a B.A. in 1912, and an M.A. and Teaching Diploma in 1913. A prominent member of the University Dramatic Society he played the part of Cotta in Pompey the Great. He went on to work as an assistant master at Bingley Grammar School for 18 months and then moved to Workington Technical College. His wife Elsie was from Ontario, Canada.
In January 1916 Harold enlisted in the Honourable Artillery Company, but soon transferred to the Artist Rifle Corp Officer Training Corp and was gazetted to the Manchester Regiment in January 1917. Wounded on 30th April 1917 while on outpost duty he died on 24th May at Achiet-le-Grand. He left effects worth £445 7s 6d to his wife.