Captain, "D" Battery, 103rd Brigade, Royal Field Artillery.
Died 6th June 1917.
Buried in Ferme-Olivier Cemetery, Belgium.
Student of engineering.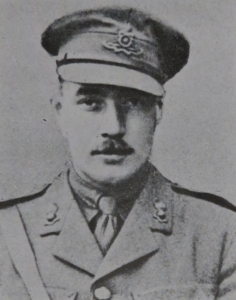 ---
Frederick was the only son of Thomas Crossley, a barrister, and Annie M. Eastwood. He was born in 1894, educated at Sedbergh School (1908-1912) and joined Manchester University in 1912. A good all round athlete and "a fair wicket-keeper and a hard hitting left handed batsman of considerable promise" he gained his cricket colours in 1910-11 and played for the University in 1913 and 1914.
Frederick was gazetted in November 1914 to the Royal Field Artillery, promoted in January 1916 to Lieutenant and then to Captain a year later. During training he gained distinction for his gunnery skills. He served at Loos in 1915, on the Somme, and in January 1917 moved to Ypres in Belgium where he was killed in early June. His Major said of him "He died as he lived, doing his duty; and I cannot express in words the sorrow I feel at the loss of such a gallant gentleman, such a good friend and such an efficient officer. He has been doing extremely gallant work and as recently as May 28th I recommended him for a Military Cross."