Captain, Royal Flying Corps, 5th Wing, and 12th Battalion Royal Sussex Regiment.
Died of wounds 13th April 1917.
Buried in Kantara War Memorial Cemetery, Egpyt.
Former student of law.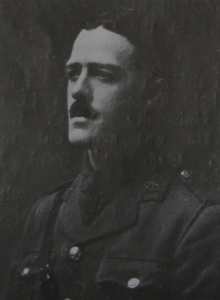 ---
Clarence, born at Manchester in 1888, was the youngest son of G.E. Cox. He attended Manchester Grammar School and entered Manchester University in 1908 to study law. He was one of the founders of the Student Christian movement. After completing his studies he was the Private Secretary to Mr. G.G. Armstrong of The Daily News, Manchester, but left to become an assistant secretary to the Student Christian Movement of Great Britain and Ireland. In 1913 he entered Exeter College, Oxford, to read for Holy Orders with a view to being ordained.
At the outbreak of war Clarence enlisted, was gazetted to the Sussex Regiment and transferred to the Royal Flying Corps (R.F.C.). He incurred several injuries due to a "hostile bomb explosion" from an enemy air raid on the R.F.C. aerodrome at Rafah, Palestine.
Clarence left effects worth £129 3s 7d to Ethel Mary Lowe (wife of Harold Lowe) and Sydney George Cox, his brother who was a solicitor who had graduated from the University in 1901.