1887 – 1919
Teacher and relief worker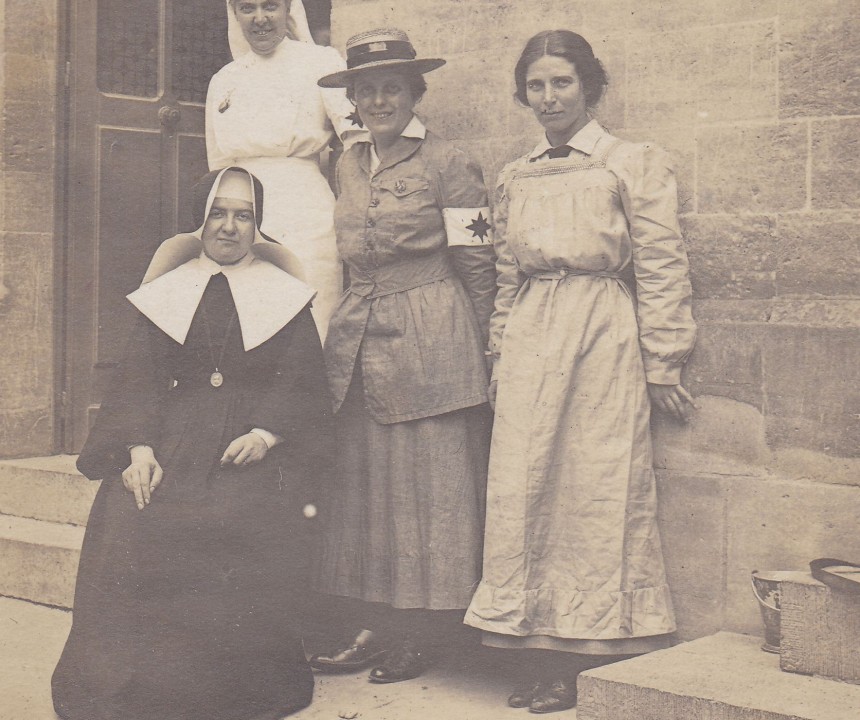 Gertrude Powicke grew up in a very religious and scholarly family from Stockport; as the daughter of a Congregational minister and the sister of a professor of medieval history. Gertrude was an exceptional student, starting at the Victoria University of Manchester in 1908 and graduating with a degree in Modern Languages in 1911. Following the completion of her studies, she moved on to become a teacher at the Manchester High School for Girls between the years 1911-1913.
Gertrude was also an active supporter of the suffrage cause, canvassing and speaking in favour of female enfranchisement as co-founder and treasurer of the Romiley branch of the North of England suffrage society for a number of years.
At the outbreak of the First World War, Gertrude was keen to get involved with the war effort and was initially put in charge of the refugee clothes store at Manchester High School for Girls, learning first aid in the process. It wasn't long before she became involved with the Friends' War Victims Relief Committee and had signed up to volunteer with the Quaker nurses in France.  Travelling close to the front line, she worked with victims in a women's refuge in Bar-le-Duc, Lorraine, helping the nurses with translating and treatment of the patients. In her first two years she was mainly occupied with relief work among the refugees such as organising a sewing workshop for women and young girls whilst also taking on administrative responsibility with the management of the refuge's accounts.
From December 1917 onwards, Gertrude adopted a new role within the Friends' War Victims Relief Committee and used her driving skills (learned at Cockshoots garage in Manchester) to resettle returning refugees, even venturing across the newly liberated front in the Argonne forest to assist villagers stranded north of the front line. During her time with the relief committee, Gertrude sent many letters home to her family and friends detailing the distress of the refugees and the hard work that came with treating them, making her wartime experiences an invaluable source of historical material. Gertrude additionally wrote to Professor Tout during this time. In one of her letters to Tout she writes, 'I feel very strongly that I ought, if possible, to keep on with the work out here, now that I have got into the swing of it. I can see more and more what one can do and it is all so very much worthwhile.'
In 1919, Gertrude travelled to Poland with the Friends' War Victims Relief Committee in order to treat an outbreak of Typhus. The epidemic, caused by the sudden surge of refugees returning to their farmland after the war, was ravishing both the Polish people and the Ukrainians that were still fleeing into the country. Gertrude described the horrors of the refugee camps in one of her last letters home, 'I think it's one of the saddest sights I've ever seen, they have come in in hundreds, sometimes thousands and there is no wood or coal to heat the barracks…If only people in England knew how terrible it is out here, I'm sure they would be running head over heels to help.'
On a tour to inspect the hospital facilities in Eastern Galicia, Gertrude and another of her male colleagues contracted Typhus. She was hospitalised on her return to Warsaw but sadly died on 20th December 1919, one day after her 31st birthday.
After travelling through the most war ravished areas of Europe and working in towns incessantly exposed to aerial bombardment, Gertrude became one of the many indirect victims of the First World War. She was buried in the Evangelical-Reformed cemetery in Warsaw, as befitted a Nonconformist. Her death was also felt very strongly in England and contributions of clothing and money for the Polish relief effort were collected by the Manchester Women's Union in her name.
Gertrude Powicke is remembered in Manchester. Her name features on a number of memorials, including the University of Manchester's war memorial which is located in the university quadrangle behind Whitworth Hall.
Listen to a BBC radio clip about Gertrude's life.