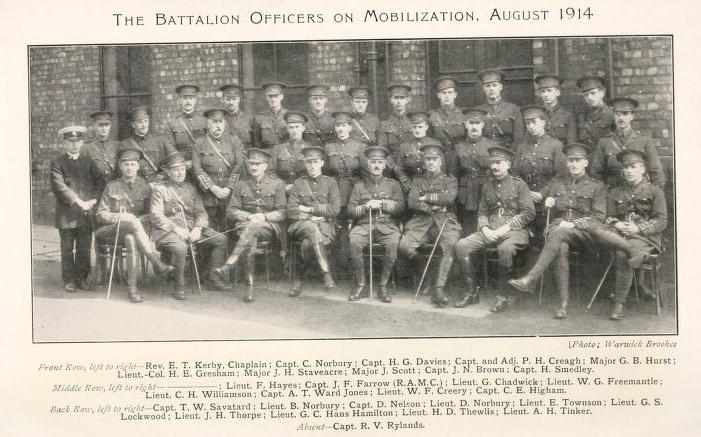 Gerald was born on 4th December 1877 at Bradford to William Martin Hertz, a Woolen Merchant of German Jewish descent. After attending Bradford Grammar School and reading History at Oxford he went on to qualify as a lawyer, was called to the Bar in 1902, and practiced in Manchester. In 1904 he joined Manchester University as a lecturer in law and special lecturer in colonial history, becoming a friend of Professor Tout. Gerald wrote a number of books including, The Old Colonial System (1905), British Imperialism in the Eighteenth Century (1908) and The Manchester Politician (1912). In 1905 he married Margaret Hopkinson, the daughter of the University's Vice-Chancellor.
Gerald was commissioned as a 2nd Lieutenant in the local 4th Volunteer Manchester Regiment in January 1900, promoted to Captain in April 1908 and Major in January 1911. His unit was renamed the 7th Battalion Manchester Regiment in 1908 and he wrote a book called With the Manchesters in the East about the battalion's role in Egypt and Gallipoli. In March 1915 Gerald was invalided home from Alexandria, with diphtheria, and missed the battalions May 1915 landings at Gallipoli.
In late July 1915 Gerald arrived in Cape Helles, Turkey. In honour of the battalion UK headquarters he named some trenches Greenhey's Lane and Burlington Street. On the 6th August, the eve of a large allied attack, he observed, "the sky above the shell riddled ridge of Achi Baba was serene and purple in the glow of evening, but the fog of war was upon us". A day later he wrote, "our men passed into a tornado of fire, and drifted forward on a broken moor, already littered with dead and wounded". During October 1915 lack of sleep, ill health, limited water supplies and unpalatable monotonous rations were taking their toll on the men. The conditions in the trenches were poor and flies "blackened every jam pot and clustered thickly round the mouths and eyes of sleeping soldiers. The trenches became dry and dusty. Detached legs or feet or arms of the dead would protrude from the parapet, as the soil around them fell away". Opportunities to bathe in the sea, have sing songs and lectures were a welcome respite to all. In early November Gerald fell ill again and was evacuated. The battalion left Gallipoli in late December as part of the withdrawal of all allied forces from the penninsula. They returned to duties in Egypt, where Gerald rejoined them in January 1916, and then moved to France in March 1917.
In mid-1916 Gerald was appointed as a court martial officer in Norfolk for a time and then joined the Suffolk Regiment. On 31st August 1916 he changed his surname from Hertz to Hurst, presumably to avoid difficulties in having a German name during wartime. He was sent back to 7th Manchesters in October 1917 and helped organise the Christmas play. January 1918 saw him recalled for more court martial work and he remained in the UK for the rest of the war. Promoted to Lieutenant Colonel he took up command of the 7th Manchesters in February 1920, but resigned it at the end of the year.
Post war Gerald was a Member of Parliament for Moss Side for most of 1918 to 1935. In March 1929 he was awarded a Knighthood. He served as County Court Judge in Kent from 1938 to 1952 and Chairman of the Conscientious Objectors Tribunals 1940 to 1955. His only son, Quentin, was killed in action in Libya in 1941. In 1942 Manchester University Press published his biographical book, Closed Chapters . He wrote many articles for and letters to The Manchester Guardian. Gerald died in October 1957.
Acknowledgements/Sources:
With The Manchesters In The East' , by Gerald B. Hurst, 1918.
The Seventh Manchesters, S.J. Wilson, 1920 (Gerald wrote the Introduction).
The Manchester Guardian, 7th October 1933, 1st January 1943, Oct 27th 1957.
http://www.kemnal-road.org.uk/Pages/People/Gerald%20Hurst.html .
London Gazette, 16th January 1900, 6th November 1908, 3rd January 1911, 8th September 1916, 1st March 1929.
Closed Chapters, by Gerald B. Husrt, 1942.